Meet Our Crew
---
Roseann Barnhill, Principal & Director of Ecology and Green Stormwater Infrastructure
Roseann is a plant ecologist with a background in wetland, stream restoration and horticulture. She was a founding instructor for Dirt Corps when it began as a community partnership of independent businesses in 2015. Since then, she serves as a director, instructor and designer. She enjoys the diversity of projects, the rich relationships with DC's partners and the joy of building beautiful spaces in our communities. You won't find Roseann in the office very much, she's happiest being on the water with her dogs.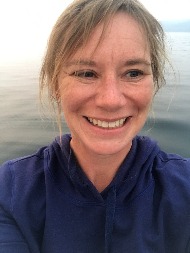 Andrew Schiffer, Principal & Director of Community Partnerships
Andrew joined Dirt Corps as a trainee in 2015, bringing his background of queer and transgender activism, project management, and community engagement. He focuses on community projects, building and maintaining long term organizational partnerships, and workforce development at both the local and regional scale. His favorite days are when he gets to give trees away to people, or work in the forest. When not at work he can be found at a Duwamish Valley community meeting, kayaking on the Duwamish, or hiking with his dog.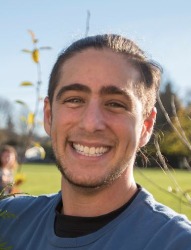 Casey Ruff, Chief of Staff
Casey Ruff is a sixth generation farm and ranch bar brat from Eastern Montana. His duties include office, production, and asset management, as well natural area crew lead, heavy equipment operations, and construction. He has unwavering interest in Godzilla, Castlevania, and the works of Harold Bloom, Carl Jung, and Joseph Campbell. He sometimes writes and performs music, too.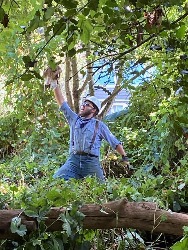 Fedora Williams, Crew Lead & Educator
Fedora is a fifth generation farmer with a passion for teaching. When not in the forest or rowing the river, she enjoys creating mixed media fiber art and photography.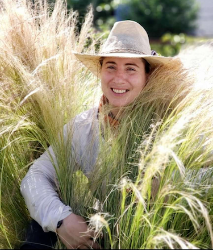 Adrian Ashworth, Crew Lead & Educator
Adrian is a recent DIRT Corps training program graduate with a Bachelor's in Environmental Science from the University of Idaho. Originally from eastern Washington, she grew up loving the landscape, the plants and animals found there, and the beautiful Columbia River. She is excited to be helping care for our region's waterways and ecosystems and to be working at the intersection of environmental and social justice. When not at work, Adrian likes to explore Seattle's green spaces, see local live music, spend time with friends and community, read, care for her houseplants and garden, and celebrate the seasons (especially Fall).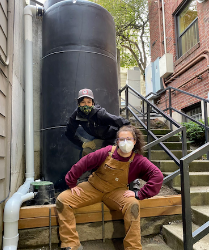 Tareq F, Crew Lead & Educator
Tareq is a Palestinian refugee who made his way to the southern United Stated Muscogee Creek region in 2006. There, he pursued a career in telecommunications engineering and produced Burning Man Regional events. In 2018, after a few magical visits to the Pacific Northwest, he fell in love and moved with his three cats to the Duwamish River Valley. The rich and diverse landscape revived his connection to flora and fauna, and he decided to pursue a career protecting and advocating for them. The DIRT Corps training program was the bridge he chose to start on a journey toward ecological restoration. He dreams of creating an organization that helps urban resident become better stewards of their space and community. He also enjoys backpacking, circus arts, and woodworking