Duwamish Alive! Earth Month Saturday Event
April 16 @ 9:45 am

-

2:00 pm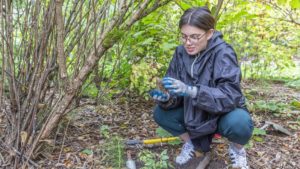 Duwamish Alive! is here again. Take part in riparian restoration on the Duwamish River with Dirt Corps and friends!
Dirt Corps is proud to be a partner of the Duwamish Alive Coalition, and co-hosting an event at He?apus Village Park. Dirt Corps will be leading restoration tasks at multiple locations around the park. This will include removing target weeds (like blackberry, ivy, buttercup, morning glory, and more), clearing an area for a hand carry boat ramp, moving large woody debris, and repairing goose fencing to protect marsh and shoreline plants.
Lunch will be provided by the Port of Seattle, multiple local organizations will be hosting tables so you can learn more about their work and events. The Duwamish Longhouse is right across the street and will be open to visitors all day!